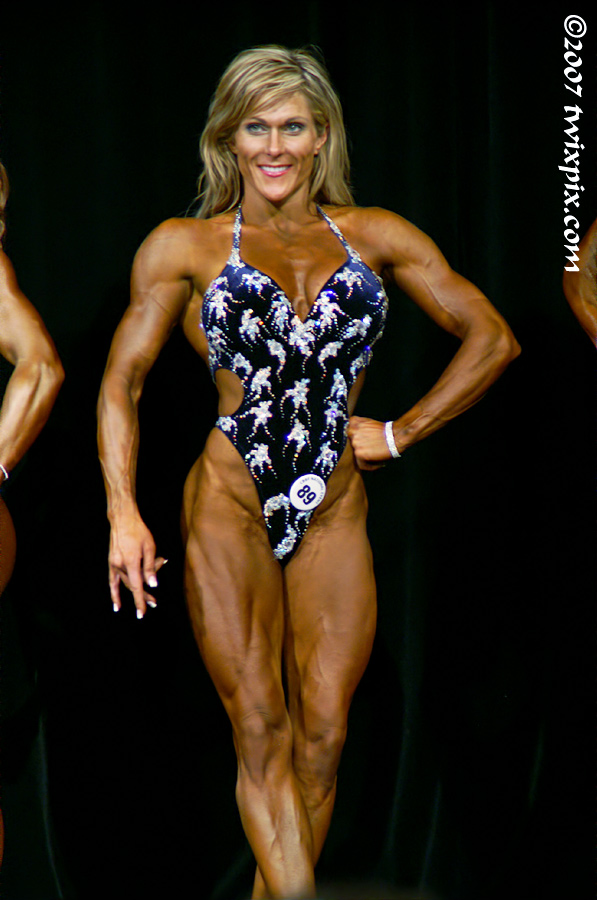 Tracey is without a shadow of a doubt, one of the most ripped and conditioned competitors in all of Canada right now. She's been a personal favorite of mine for quite some time, and for some people (including yours truly), it's only a matter of time before she joins the IFBB rankings. Which division will it happen in is a bit of a mystery right now because basically, she's done it all in the sport, except for getting that pro card.
While I call her a "New Elite", truth is Tracy has been competing off and on for nearly a decade now, being in fitness and figure since 2000, in the Canadian BodyBuilding Federation (CBBF) and also in a few NPC competitions. She's gradually improved on her physique (which I've always been a fan of) year after year after year. But it was the year 2007, at the CBBF Nationals Fitness and Figure Championships that made message boards and fans all over the world (not just Canada) take notice. She came in with a look and physique that defied logic, even for Canadian standards, which definitely saw her fanbase grow tremendously. She would get a bit softer (I know, I know, some of you are going "BOO!! LOL.) in 2009, as she would win the Open Class Short and Masters (Over 35) Figure, as well as capture Open class Figure Overall Title at the Muscle Beach Championships.She would go on to place 7th in the CBBF Figure Nationals in the Masters class.
With her insane physique, many people were wondering and hoping that Tracey would give bodybuilding a shot. She finally did in 2010, as she competed in bodybuilding for the first...and possible last time. Why last time, you ask? Well, she placed very well, and even won best poser. But she felt like she would have to possibly do things she would later regret in order to be a top bodybuilder, and she decided that it wasn't what she wanted. I 100% respect her decision in that. She shouldn't risk Instead, she's returning to her roots in fitness, hoping her more muscular frame will be more accepted by the judges.
Regardless of what the judges think of her physique, Tracey is a winner in my book and in many others as well. This proud Canadian native now SoCal resident is definitely "Fit 2 a T" and will remain that way as long as possible.
For more on Tracey, you can follow her on Twitter at
http://twitter.com/fit2atworld
, join her fan club on Yahoo (
http://sports.groups.yahoo.com/group/fit_2_a_t/
) created by yours truly, follow her and her California business on Facebook (
http://www.facebook.com/pages/Fit-2-a-T-Personal-Training/78266751763?ref=ts
), and of course, don't forget to check out her website at
http://www.fit2atworld.com
.