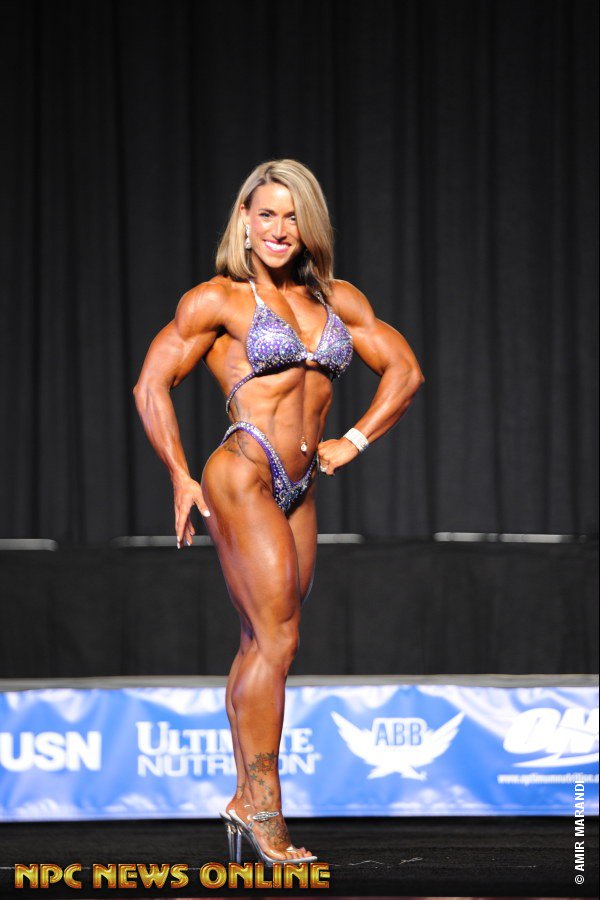 One of the most amazing muscle athletes this industry has ever seen!
Photo credit: NPC News Online
Every competitor is special in their own way. Each woman that enters the physique world spends hours upon hours of dedication in the weight room and in the kitchen to obtain the most amazing physiques on the planet when it comes to LOOKING like Greek gods/goddesses. While they are definitely stronger than the average person, they are not judged by their strength in the weight room. Then you have those that put in hours of dedication to have the STRENGTH of Greek/gods and goddesses and don't actually focus on the look rather the performance. Those are powerlifters, weightlifters, and Crossfitters (even though the Crossfitters tend to usually have better aesthetically-pleasing physiques than powerlifters and weightlifters. Now...to do physique competitions, CrossFit, weightlifting AND powerlifting and be able to excel at all of it has got to take superhuman effort. Add to that being a loving and dedicated wife and mother of four children and you have credentials that would make even Wonder Woman look like a joke.
Ladies and gentleman, such a woman exists...and you won't find her in comic books (even though it would make for one heck of one!). And her name is Lauren Rutan.

Lauren is from Akron, Ohio. You might recognize that town because a certain top NBA Superstar just happens to be from there as well. But we're not focusing on him here, we're about the QUEEN of Akron. If you look up the word superhuman in the dictionary, there's a good chance you will find a picture of Lauren in the description. She competed before at the National Level about 10 years ago when she did the 2007 Jr. Nationals, along with a few other shows. She stepped away from the physique stage for a while, but not before she decided to do anything and everything that tested her body to the limits and beyond. She has went on to become a weightlifter and powerlifter, breaking state records and becoming one of the nation's top strength athletes. She also has done her share of CrossFit competitions as well, and is among one of the best there as well! In all of that...she became a wife and mother of four along the way. She's also a nutrition and workout coach to boot. I know, that's a lot to take in!
The Ultimate Jill-of-All-Trades
Photo credit: CrossFitGirl.com
She recently returned to the physique stage, winning the overall 2017 NPC Mid-Atlantic Cup Figure title and would go on to place in the top 10 in her figure class at the NPC Jr. Nationals. Her next stop is the USPA Powerlifting Nationals in Las Vegas in a couple of weeks. Yes, she prepared for a physique show and a powerlifting competition at the same time. To say that's insane would be an understatement. But Lauren is a special kind of athlete that only comes around once in a lifetime. She has big plans, and she herself will reveal more about them and her incredible athletic career in a future interview exclusively for FitGems Nation. We are looking forward to interviewing her and learning more about how she has been able to become THE definitive Superwoman.