I'm not gonna front...I just about forgot about this competitor, and if it wasn't for my man AirHarp (go to
Siouxcountry
and
find his posts. He's awesome), I would have completely forgot about her. Thanks man!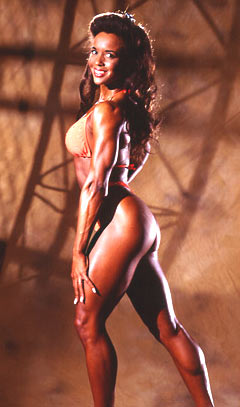 Saryn Muldrow is one of the top fitness competitors of all time. She was born in LA in 1964 and has been living in Denmark since age 11. She competed in the bodybuilding and fitness industry for an unbelievable 19 years. During that time, she would go on to win the the Danish, European, and World championships and the Miss universe titles. However, her claim to fame was when she won the Miss Fitness Olympia title in 1996. She called it a career in 1999 after breaking her arm and never regaining the strength needed to compete to the best of her ability. She is now a highly-skilled painter, which was something she started to take seriously in 2002. Her paintings are truly amazing, much like her career. I bet you she will wind up on the IFBB Hall of Fame in a very short amount of time.


For more on the legendary Saryn, click here to view her official website translated in English. For those that want to see her website in her native language, click here.